Colorado Animal Welfare Conference Session
12:15-1:45pm • Day 2 – September 22, 2022
This session will explore the process and interworkings of the Colorado State Legislature. We will discuss how bills are formed and passed at the state level and ways for individuals and organizations to impact policy in meaningful ways. We will also review AWAC's  most recent legislative engagement and the organization's legislative priorities moving forward and how you can engage!
Emma Hudson is the owner and principal of Emma Hudson Consulting, LLC, a mission-focused communications and public affairs firm. Hudson's background spans nonprofit and government experience as an advocate and a government relations strategist specializing in health care, business, and social justice policy. She holds a master's degree in Public Affairs.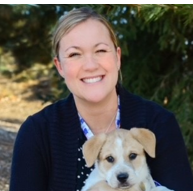 Ali Mickelson is the advocacy director for the Dumb Friends League where she leads the league's policy and advocay work. She has more than a decade of legislative experience and has been involved in the passage of a number of laws that improve the lives of animals, including preventing suffering in shelters and rescues, repealing breed-specific legislation and updating Bureau of Animal Protection laws. She is also a leader of the league's work on Socially Conscious Sheltering.