Colorado Animal Welfare Conference Session
Differentiating Between Geriatric Pets and Neglect
10:45am – 12:15pm • Day 2 September 21, 2023
Northwest Territories A-B
As animals age, degenerative changes can cause weight loss, lameness, and other clinical signs that can mimic signs of neglect.  This lecture will detail common old age signs, common signs of neglect, and their similarities and differences.
Recognizing Non-Accidental Injury in the Field
1:30 – 3:15pm • Day 2 September 21, 2023
Northwest Territories A-B
Non-accidental injury, or NAI, is the result of intentional physical violence committed against pets by humans.  Prompt recognition of NAI is crucial in the protection of animal as well as human welfare.  This lecture will focus on common signs of NAI, how to distinguish them from other types of trauma, and appropriate next steps.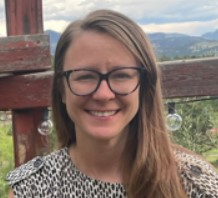 Dr. Vaiden works as the veterinarian for the Bureau of ,A.nimal Protection within the Colorado Department of Agriculture. She works with her team across the state investigating allegations of animal cruelty and neglect. She completed a graduate certification in veterinary forensics in 2021.